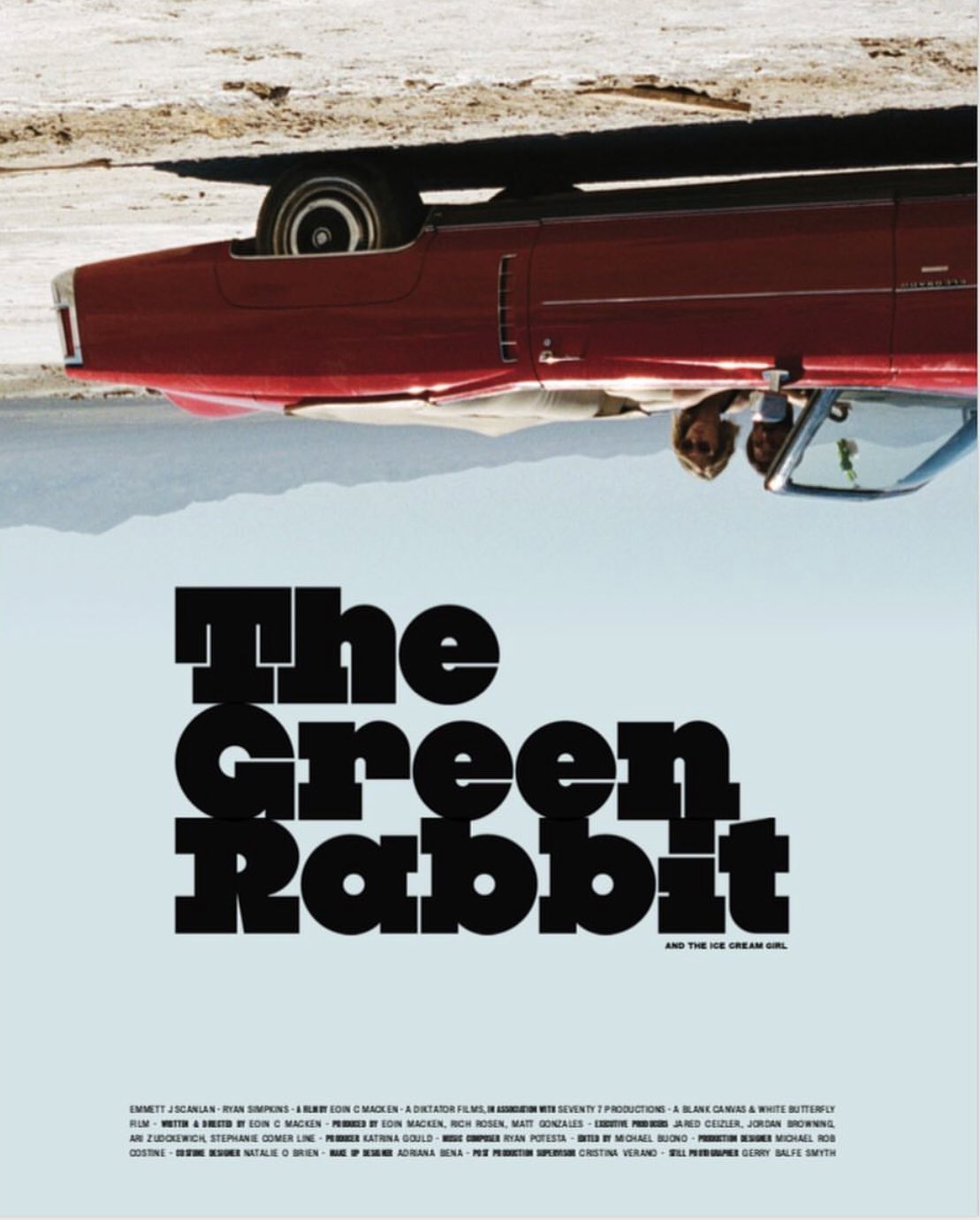 Finally, on Vimeo, we can watch last Eoin's short film, The Green Rabbit and The Ice Cream Girl. Written, produced and directed by Eoin Macken, starring Emmett J Scanlan & Ryan Simpkins. Original score by Ryan Potesta, edited by Micheal Buono & cinematography by Daniel Katz on 35mm.
A man is stumbling through the desert, in only underwear, lost and confused. A car pulls alongside, driven by a beautiful young girl who knows his name. His name is Gerry and it's tattooed on his forehead. Her name is Eilis, from a pendant around her neck. With nowhere else to go, he gets into the car and begins a surreal journey to answer the reasons he's there at all.
Also, thanks to our friend Sam from Brendan Fehr Net, I've added all the screencaps of the short film. If you want to take a look and have some to make some edits or something, just give it a try at the gallery!
2017
news
screencaps
the green rabbit and the ice cream girl
videos
vimeo
Based on Capcom's hugely popular video game series comes the final installment in the most successful video game film franchise ever, which has grossed over $1 billion worldwide to date.
Picking up immediately after the events in Resident Evil: Retribution, Alice (Milla Jovovich) is the only survivor of what was meant to be humanity's final stand against the undead. Now, she must return to where the nightmare began – The Hive in Raccoon City, where the Umbrella Corporation is gathering its forces for a final strike against the only remaining survivors of the apocalypse.
These ones have been a pain in the a**, but oh well, everything in order to keep this site updated hahahaha! Thanks to our partner from Brendan Fehr Net, I've added all Eoin's related screencaps of Resident Evil: The Final Chapter to the gallery! Come oand talented k at them for a bit, he's gorgeous and talented at every single role!
2017
resident evil
screencaps
Thank you, @FarFarAwaySite, for stil being alived and for all the wonderful stills and pics of the last season of The Night Shift! Never too late, never too soon! Added them all to our gallery, check them out aswell!
Also thanks for that bunch of BTS pics with the cast of The Night Shift and, obviously, our lad Eoin Macken. In our gallery aswell!
2017
photos
stills & prom pics
the night shift
As said, the hard work first. Finally manage to get the time to make all the screencaps of The Night Shift, season 4, where Eoin plays doctor T.C. Callahan. Sad thing we're not going to have a season 5 but, stil, we've enjoyed all the seasons by far and we're gonna wait for more tv shows and films! Let's wait together, as usual!
"We want to thank our amazing creators and executive producers, Gabe Sachs and Jeff Judah, for their dedication and stellar work; a cast and crew that were second to none; and the city of Albuquerque, N.M., which graciously opened its arms to us," NBC entertainment president Jennifer Salke said in a statement. "For four seasons, The Night Shift gave audiences a window to heroic doctors, nurses and all-star medical workers who never hesitated to give their blood, sweat and time to help those most in need."
Read the full article HERE.
Don't miss this interview of Eoin that he did while setting the last season of The Night Shift and then enjoy the screencaps!
All the screencaps are just down below, all of them. Not a single one missed.
And last, in order to give you some good stuff and some good vibes too (and also to make you feel better after the news that you probably already knew but that we just updated today), here you have some good videos about The Night Shift behind the scenes. Have fun! And thanks to Brendahn Fehr Net for the video!
2017
interview
news
screencaps
the night shift
videos
vimeo
youtube
First I'm gonna update the hard work, which is try to update the screencaps folders. It will take some time but… I'm probably going to finish it by today. Thanks to our partner from Brendan Fehr Net, we've added all the screencaps of Leopard, an original movie byEoin Macken into pur gallery! Take a look and don't forget to visit them aswell!
2017
leopard
screencaps
Hello guys! Sorry, sorry so much.
This is not a good bye, this is actually a welcome back everybody! I basically got no time to update the site normally, constantly… well, you know what I mean. But, since we stil love Eoin and all his wonderful projects and works, we (Carola and I) decided to keep updating this site as much as we can. Real life is becoming such a wonderful thing, we are improving in our skills, we are looking for jobs and we are always doing stuff, so that's why we couldn't be able to keep this site updated.
But don't worry! Still we're gonna try to update it as much as we can, starting by today. Most of the time we're going to update the gallery since we want to keep it as a personal gallery so we can always remember the events and see Eoin's in all his kind, so don't stop coming to see that! Interviews, videos… we're gonna try, but we don't promise anything.
This is basically a reminder that we stil love Eoin and that we stil appreciate all your support, so stay with us as much as you want! Because we're gonna try our best (but not that daily tho). Sorry for my bad english, you know I'm spanish and well.
Thanks everybody, and be safe!
P.S. It's been almost one year, wow guys… hahahaha.
2017
admin post
Hey guys! Thanks to our amazing friend Sam from brendan-fehr.net, we got some video interviews and lil glimpses of the Japanese World Premiere of 'Resident Evil: The Final Chapter' earlier at Japan! Hope you'll enjoy them all!
Eoin Macken about how's the movie and how was filming it + his relationship on set with the cast.
Some videos from the premiere and the whole cast before the screening.
A two-minutes teaser trailer about the whole premiere event with some little sneak peaks from the Final Trailer!
2016
eoin
news
public events
resident evil
videos
vimeo