Hey guys, great news! "Kingdom of Scars" has been shortlisted for The Sunday Independent Newcomer of the Year (2014) in the Irish Book Awards. You can vote for "Kingdom of Scars" by clicking the image below, good luck Eoin! Also Everyone who votes will be entered into a draw to win one of 4 €100 of National Book Tokens gift cards.
2014
kingdom of scars
news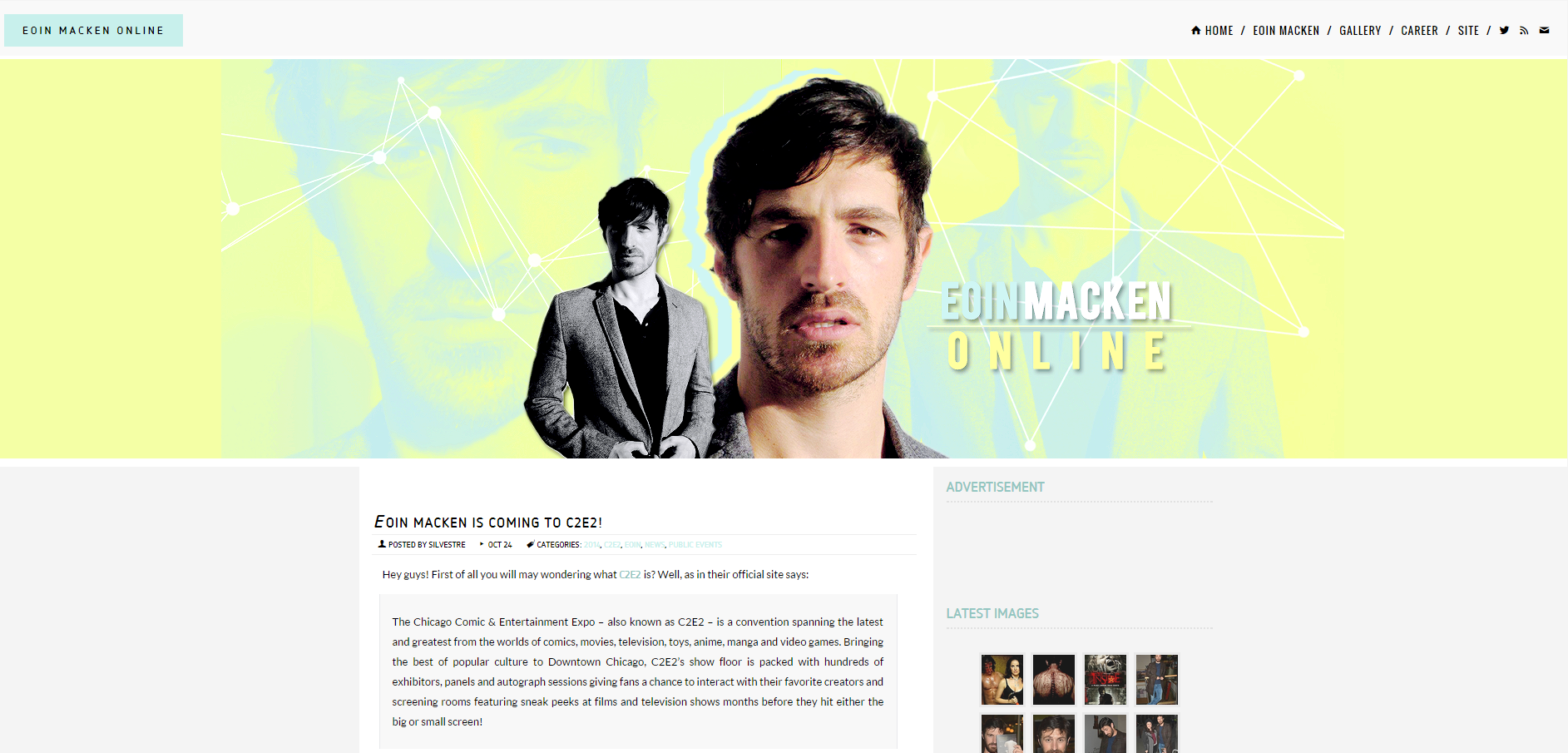 Good morning/afternoon/evening/night, folks! We are glad to anounce and let you all know that our site has been updated with a new layout made by neoncandy!
But, why? Well, we were quite "bored" of the last one (even tho it was such a wonderful layout) and we also wanted to thank you all for your support throught this fansite that it's online since some months ago (July 5th to be exact!). So hope you guys like it and will enjoy it as much as we do! Thanks for everything and also thanks for being here with us supporting everything related with Eoin!
We love you, guys!
Cheers!
Silvs & Carola.
admin post
Hey guys! First of all you will may wondering what C2E2 is? Well, as in their official site says:
The Chicago Comic & Entertainment Expo – also known as C2E2 – is a convention spanning the latest and greatest from the worlds of comics, movies, television, toys, anime, manga and video games. Bringing the best of popular culture to Downtown Chicago, C2E2's show floor is packed with hundreds of exhibitors, panels and autograph sessions giving fans a chance to interact with their favorite creators and screening rooms featuring sneak peeks at films and television shows months before they hit either the big or small screen!
So, what's the point of this topic? Well, basically to let you all know that Eoin will be attending the convention next April 24th to April 26th as a former guest from 'The Night Shift' and 'Merlin'. Such a good news, right? Don't forget to get your tickets in order to see our man and have such a wonderful experience because you will not regret it, for sure! If you get the chance to go there, don't miss the oportunity of meeting him because he's such an amazing man, but we all know that, right?
Here you have the official topic of the anouncement and here you can buy the tickets for the con.
.@eoincmacken from #TheNightShift and #Merlin is coming to #C2E2! http://t.co/gtaKA1d7pI pic.twitter.com/9zGQcLAnpi

— C2E2 (@c2e2) octubre 22, 2014
Have a wonderful week if you are able to go to the con, guys! And feel free to tweet or message us all of your pics and experience with him over there!
2014
c2e2
eoin
news
public events
Last update of the day, people! I've added 3 pics from 'The Inside' to the gallery and will add more as soon as I'll get more of them!
Friendly reminder that they are not safe/suitable for work (NSFW) because of the blood (blood tw).
2014
photos
THE INSIDE

Hey folks! Since Eoin's horror film, The Inside, is releasing today (and as a part of the promotion the producer team – with the support of RevolverUS -), Eoin was doing something like a Q&A (it was called IAMA but we have no idea what that's mean to be honest) yesterday night on Reddit. Did you miss it? Well, don't worry. Here you have some of the questions that all the fans were asking him and some replies, without forgetting that you can read the whole Q&A here!
I know this is supposed to be about The Inside, but I'm curious as to when Cold will be released and if you'll ever dish tea about why the actors turned down a season 6 of Merlin.

Cold is hopefully out next year, been a slow process because it's an indie and been waiting on it to get the best deal so everybody can see it, but it will be a worldwide release soon….timing is everything with indies….but I want the fans to see it soon, they've been very patient which I respect and am thankful for…..
Hi Eoin. I'm not a fan of horror movies, but I am a fan of your work. So why should I watch The Inside? Will is scar me for life?

Horror movies scare the bollox out of me too actually, but that's why i made it, to make something scary that would scare me…..if you watch it at night with the lights off and your back facing the door, this will scare the crap outta you
Been a fan since Merlin. Where'd you get the idea to do a horror film?

I saw a music video, and it was the Corona's or something, and it was one continuous take, and I decided I wanted to make a horror film that was one single take – that a lot of what was going on would happen outside the frame and like real time the actors and the audience wouldn't know what was happening, so i wanted some confusion…..it almost worked, but not quite, we didn't quite have the time to finesse that, so it grew into something else
Does the film mirror any of your own greatest fears, and did the process of making the film influence your fears in any way?

Yeah, I find the idea of energies, negative, drawing in darkness and spirits very real, and actually we had very odd experiences with this film, after I made it I had a lot of dark experiences, and even moved out of my apartment in LA afterwards. I think extreme negative energy can attract things out there that we don't want to know about….so The Inside played on that because for me it's a very real possibility, much more so than zombies and vampires
You screened The Inside in 2010, but made a different cut for the DVD. Did you change much and why?

I'm not even sure anymore, always seem to be doing something on this film! it's a different cut to my initial screening, then some changes after the new cut I think again, but it's pretty much the same since Frightfest 2012 I think….
And as I said you can see more in the topic! Don't forget that 'The Inside' is releasing today on the USA so give it a look and enjoy your Halloween just in company with this wonderful horror film!
2014
eoin
news
q&a
THE INSIDE