Nightflyers is a 1980 novella by George R. R. Martin, a 1985 short story collection by the same author that includes the novella, a 1987 science fiction-horror film based on that novella, and an upcoming TV series.
In 2017, a pilot for a possible TV series based on Nightflyers was being developed by Syfy. The series would be based on the 1987 film, with Jaffe serving as one of the producers. The script for the pilot was written by Jeff Buhler. Martin will not be involved in the production or writing for the new series, since his contract with HBO contains an exclusivity clause.[1] The series will be shot in Ireland and will premiere in July 2018; the producer will be Daniel Cerone. — SOURCE.
Just added, also, some HQ Photos of Eoin (thanks @FarFarAwaySite for them) on set with the crew of Nightflyers! Take a look at the gallery!
2018
eoin
news
nightflyers
photos
videos
youtube
Thanks to @FarFarAwaySite I've added y a lot of HQ photos of the Sony Pictures Releasing's Resident Evil The Final Chapter at the Regal L.A. Live Theatres in Los Angeles, California last January 23, 2017! You probably have already saw them all, and here is also a video about his arrival with her sister, Freya Macken. Enjoy it!
And here you have all the pictures in our gallery, thanks for all guys! There are more than 45+ pictures, savage, right?
2017
eoin
photos
public events
resident evil
videos
youtube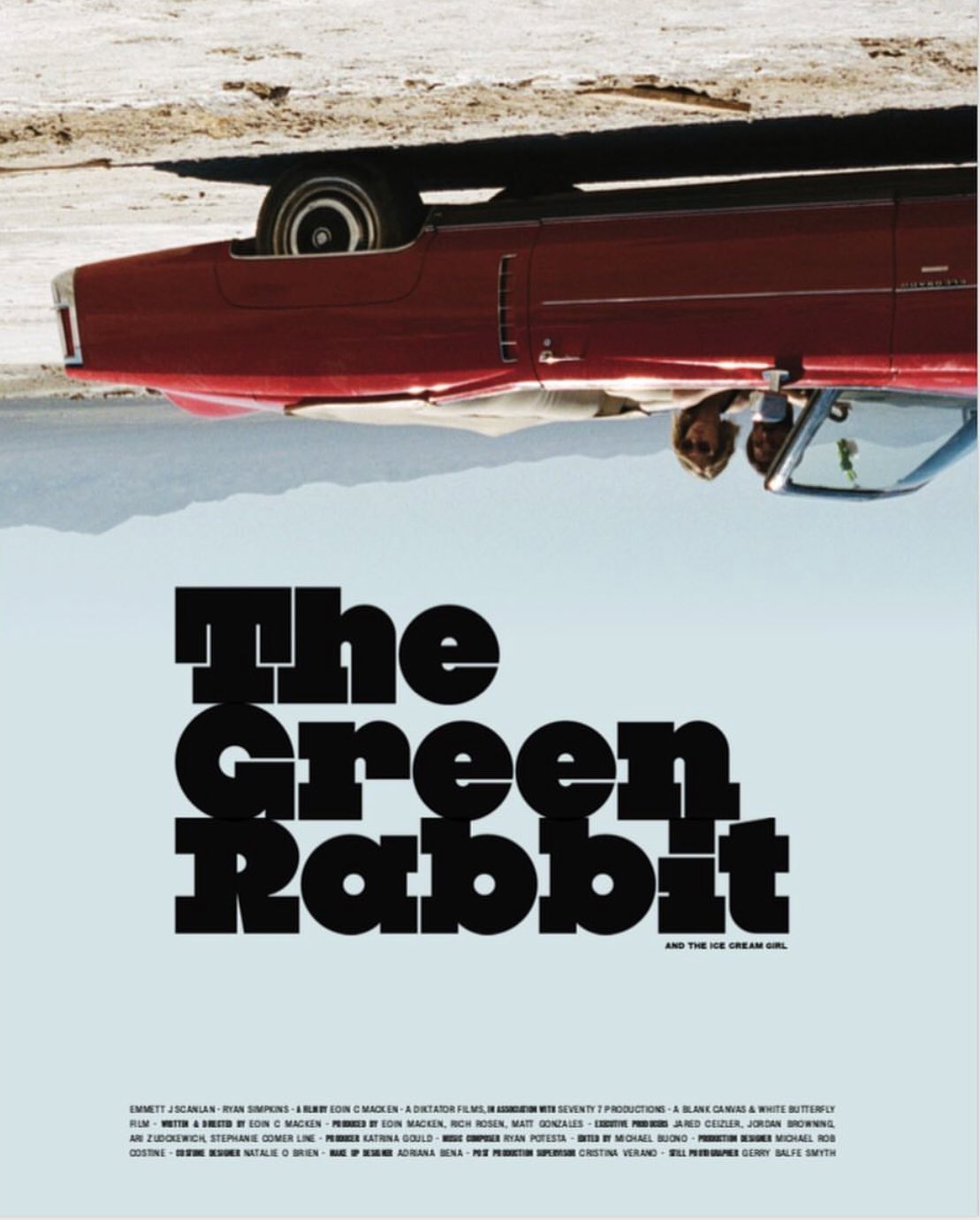 Finally, on Vimeo, we can watch last Eoin's short film, The Green Rabbit and The Ice Cream Girl. Written, produced and directed by Eoin Macken, starring Emmett J Scanlan & Ryan Simpkins. Original score by Ryan Potesta, edited by Micheal Buono & cinematography by Daniel Katz on 35mm.
A man is stumbling through the desert, in only underwear, lost and confused. A car pulls alongside, driven by a beautiful young girl who knows his name. His name is Gerry and it's tattooed on his forehead. Her name is Eilis, from a pendant around her neck. With nowhere else to go, he gets into the car and begins a surreal journey to answer the reasons he's there at all.
Also, thanks to our friend Sam from Brendan Fehr Net, I've added all the screencaps of the short film. If you want to take a look and have some to make some edits or something, just give it a try at the gallery!
2017
news
screencaps
the green rabbit and the ice cream girl
videos
vimeo
As said, the hard work first. Finally manage to get the time to make all the screencaps of The Night Shift, season 4, where Eoin plays doctor T.C. Callahan. Sad thing we're not going to have a season 5 but, stil, we've enjoyed all the seasons by far and we're gonna wait for more tv shows and films! Let's wait together, as usual!
"We want to thank our amazing creators and executive producers, Gabe Sachs and Jeff Judah, for their dedication and stellar work; a cast and crew that were second to none; and the city of Albuquerque, N.M., which graciously opened its arms to us," NBC entertainment president Jennifer Salke said in a statement. "For four seasons, The Night Shift gave audiences a window to heroic doctors, nurses and all-star medical workers who never hesitated to give their blood, sweat and time to help those most in need."
Read the full article HERE.
Don't miss this interview of Eoin that he did while setting the last season of The Night Shift and then enjoy the screencaps!
All the screencaps are just down below, all of them. Not a single one missed.
And last, in order to give you some good stuff and some good vibes too (and also to make you feel better after the news that you probably already knew but that we just updated today), here you have some good videos about The Night Shift behind the scenes. Have fun! And thanks to Brendahn Fehr Net for the video!
2017
interview
news
screencaps
the night shift
videos
vimeo
youtube
Hey guys! Thanks to our amazing friend Sam from brendan-fehr.net, we got some video interviews and lil glimpses of the Japanese World Premiere of 'Resident Evil: The Final Chapter' earlier at Japan! Hope you'll enjoy them all!
Eoin Macken about how's the movie and how was filming it + his relationship on set with the cast.
Some videos from the premiere and the whole cast before the screening.
A two-minutes teaser trailer about the whole premiere event with some little sneak peaks from the Final Trailer!
2016
eoin
news
public events
resident evil
videos
vimeo
As part of a three videos documentary, here you have the second one of the whole project Eoin was doing a couple of years ago with @Sightsavers. Enjoy the second part of A Gif of Sight, which will be released next October 13th, featuring "the stories of three people undergoing cataract surgery".
In July 2014, actors Eoin Macken (The Night Shift, Merlin) and Tim McDonnell travelled to Northern Mozambique to witness Sightsavers' work in the field and captured their experience on film.

Their 30-minute film, A Gift of Sight, which will premiere on our Million Miracles website on World Sight Day (Thursday 13 October), features the stories of three people undergoing cataract surgery.

This is Henrique's story.

Having cataracts in both eyes has meant 76-year-old Henrique da Cruz has been blind for the last 10 years. He has five children and 16 grandchildren, two of whom, due to his cataracts, he has never seen.

Henrique lives with his son and his son's family, and, aside from a rope system that his family built to allow him to feel his way to the toilet, he has no independence and no longer feels able to work like he used to. He says of his situation: "I feel sad and very limited. I can't go around alone and completely depend on others."

When Henrique was examined by staff at Anchilo Health Centre's outreach service, it was discovered that he only had a tiny amount of light perception and would therefore need to undergo surgery on both eyes to remove the cataracts that had been worsening over time.

When asked how he was feeling about the surgery he said he was hopeful that he'd be able to see again, and be able to resume his farming work. But most of all he was looking forward to seeing his two baby grandchildren for the first time.

A Sightsavers project car was sent to transport Henrique to the new eye care facility at Nampula's hospital, 30 kilometres away from his home, where Dr Anselmo performed his cataract surgery.

The following day Henrique was quiet and subdued as his bandages were removed, but he quickly livened up as he discovered he was able to walk confidently down the corridor without being led by his son or daughter-in-law. Henrique was overjoyed. He said, "I am very happy I can see again. I can see people and cars!"

"I feel alive again and it is so good!"
2016
eoin
news
sightsavers
videos
youtube
Remember that trip the wonderful Eoin Macken was preparing some months ago? Remember his whole adventure through it and how Mozambique literally changed something in his life? Well, the waiting finally came to an end, and we're able to get a big glimpse about his memories around there with blind people who, thanks to SightSavers, got the chance to keep his sight and get it back!
Here you have the video, and we're going to keep this post updated since it seems there are two more videos about the whole process so… stay tuned! But for now, enjoy the first part of A Gif of Sight, which will be released next October 13th, featuring "the stories of three people undergoing cataract surgery".
In July 2014, actors Eoin Macken (The Night Shift, Merlin) and Tim McDonnell travelled to Northern Mozambique to witness Sightsavers' work in the field and captured their experience on film.

Their 30-minute film, A Gift of Sight, which will premiere on our Million Miracles website on World Sight Day (Thursday 13 October), features the stories of three people undergoing cataract surgery.

This is Agira's story.

Agira has been reliant on her son to provide her with food since her bilateral cataracts worsened and she was no longer able to farm. She continued to carry out tasks such as basic cooking and collecting water because of their familiarity but her deteriorating sight was beginning to affect this. She would follow the familiar path to the water hole, but if there were any obstructions, she would become disorientated.

A regular outreach service was established at the Anchilo Health Centre, a short drive from Agira's home, making the services available to her much more accessible. The clinic identified Agira's cataracts and she was referred for the treatment that she so desperately needed.

Before the service came to Anchilo, Agira didn't know that it was even possible that her sight could be restored. In order for her to make her cataracts surgery, a Sightsavers project car collected Agira to transport her to the Nampula Eye Clinic for treatment. Without this provision, raising the cost of the journey to and from Nampula would have been near impossible for her.

Before her cataract operation, Agira said she was most excited to see her friends and family clearly again.

On the day following the operation, her bandages were removed and Agira was instantly full of smiles and began shaking the doctors' hands. She said, "I am feeling no pain. I am so happy. I can see you all!"
2016
eoin
news
sightsavers
videos
youtube