Thanks to @FarFarAwaySite just added some old HQ photos of the NBC Universal Summer Press Day at The Beverly Hilton Hotel last March 20, 2017! Check them out in our gallery, thanks for your support!
2017
eoin
photos
press conference
public events
the night shift
Thank you, @FarFarAwaySite, for stil being alived and for all the wonderful stills and pics of the last season of The Night Shift! Never too late, never too soon! Added them all to our gallery, check them out aswell!
Also thanks for that bunch of BTS pics with the cast of The Night Shift and, obviously, our lad Eoin Macken. In our gallery aswell!
2017
photos
stills & prom pics
the night shift
As said, the hard work first. Finally manage to get the time to make all the screencaps of The Night Shift, season 4, where Eoin plays doctor T.C. Callahan. Sad thing we're not going to have a season 5 but, stil, we've enjoyed all the seasons by far and we're gonna wait for more tv shows and films! Let's wait together, as usual!
"We want to thank our amazing creators and executive producers, Gabe Sachs and Jeff Judah, for their dedication and stellar work; a cast and crew that were second to none; and the city of Albuquerque, N.M., which graciously opened its arms to us," NBC entertainment president Jennifer Salke said in a statement. "For four seasons, The Night Shift gave audiences a window to heroic doctors, nurses and all-star medical workers who never hesitated to give their blood, sweat and time to help those most in need."
Read the full article HERE.
Don't miss this interview of Eoin that he did while setting the last season of The Night Shift and then enjoy the screencaps!
All the screencaps are just down below, all of them. Not a single one missed.
And last, in order to give you some good stuff and some good vibes too (and also to make you feel better after the news that you probably already knew but that we just updated today), here you have some good videos about The Night Shift behind the scenes. Have fun! And thanks to Brendahn Fehr Net for the video!
2017
interview
news
screencaps
the night shift
videos
vimeo
youtube
Good news, guys! As you all may know by now, Gabe Sachs announced a couple of days ago that The Night Shift got renewed for a fourth season! What does that mean? Well, that means that we are going to get the chance of seeing the wonderful and amazing cast of the medical drama, including Eoin as the main lead, on screen for a new round coming up next year, probably at summer! Aren't you excited? We are!
Congratulations to all the people that make NBC The Night Shift possible!
GUESS WHAT WE GOT?!!!!!!! @NBCNightShift #nightshift #thenightshift #SEASON4 THANK YOU for all of your amazing support and patience! WOO HOO pic.twitter.com/2S40nKs1jJ

— Gabe Sachs (@Gabestuff) 17 de noviembre de 2016
Road to a new season then! Wait for it with us, keep tuned and don't forget to congratulate the whole cast via twitter, they are gonna love it!
NBC has picked up The Night Shift for a fourth season. The medical drama has been a solid summer performer, averaging a 1.4 rating in adults 18-49 and 6.8 million viewers overall in Live+Same Day in Season 3, making it the No. 1 summer drama on the Big 4 networks this year.

NBC does not specify but The Night Shift will likely continue as summer fare. The drama started in summer 2014, exceeding expectation and earning a second-season renewal. Its second season, which aired in midseason 2015, was less successful, but the show did OK in its return to summer this year.

The renewal for The Night Shift, from Sony Pictures TV, comes on the heels of NBC opting not to go with the Cruel Intentions sequel series, also from Sony TV, for next summer.

"Week after week The Night Shift tells incredibly engaging and emotional stories that draw us into a unique world," said NBC Entertainment president Jennifer Salke.

The cast of The Night Shift includes Eoin Macken, Jill Flint, Brendan Fehr, Robert Bailey Jr., JR Lemon, Tanaya Beatty and Scott Wolf. Gabe Sachs and Jeff Judah serve as executive producers and writers.

(source).
2016
eoin
news
the night shift
Hey guys! Tomorrow a Facebook Live Chat is going to happen thanks to @CanalAE with two of the main protagonist characters of NBC The Night Shift, our beloved Eoin Macken and the sweet and kind Jill Flint. Don't miss it guys on the following link, go there on Sunday and ask them some questions!
The third season of the Medical drama series The Night Shift debuted on June 1, 2016 and concluded on August 31, 2016, on NBC in the United States. It is produced by Sachs/Judah Productions, and Sony Pictures Television with series creators Gabe Sachs and Jeff Judah serving as executive producers.

The series follows the overnight shift at San Antonio Medical Center, where three of the surgeons have a connection to the U.S. military. Dr. Thomas Charles "T.C." Callahan (Eoin Macken), an ex-army medic who often butts heads with his former girlfriend, Dr. Jordan Alexander (Jill Flint) and the hospital administrator, Dr. Topher Zia (Ken Leung), also an ex-army medic. Meanwhile, Dr. Alexander hires a new intern, Dr. Shannon Rivera (Tanaya Beatty), while Dr. Drew Alister (Brendan Fehr) has returned stateside after an incident overseas. Other doctors that are on the shift include surgeons Dr. Paul Cummings (Robert Bailey Jr.), who struggles to come out of his father's shadow while developing possible romantic feelings for Dr. Rivera, and Dr. Scott Clemmens, a recovering alcoholic and head of the surgery department.
2016
eoin
interview
q&a
the night shift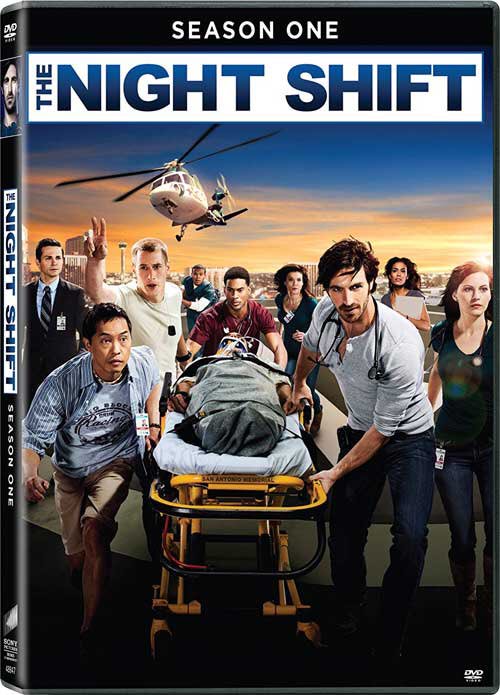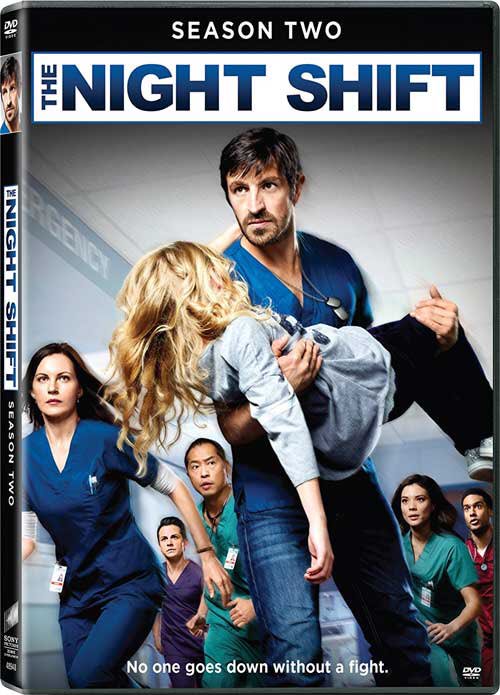 We finally got it, guys! Head up to Amazon just right now in order to get the chance of ordering the first two seasons of the NBC medical drama, 'The Night Shift'. Don't miss the opportunity, it's always nice to support our favourite TV Shows (more if it happens to be about our beloved man, Eoin Macken, here you have the link!
We'll gonna add both DVDs to our sidebar as soon as possible aswell so you'll always see them easily!
An ensemble medical show about a group of ex-Army doctors who work the night shift at a hospital, and do whatever it takes to help their patients. Using battlefield-tested medical skills, doctors clash with hospital bureaucrats who are more worried about the bottom line than the lives of their patients.

Amazon's CreateSpace MOD (manufacture on demand) program has added pre-order listings for both The Night Shift – Season 1 and also The Night Shift – Season 2 on DVD. The 8-episode first season will come on 2 discs for $35.99 SRP. The 14-episode second season will come on 3 discs, and is priced at $45.99 SRP. (source)
2016
dvd
eoin
news
the night shift
Hey folks! Since I have more time to spend on the site, I had finally the chance of adding to the gallery the huge amount of 116 pictures of our man, Eoin Macken, on set playing TC Callahan in the last season of our new favourite TV Show The Night Shift.
Thanks to the awesome and wonderful @Gabestuff for the whole cover during the sets of The Night Shift, taking pictures and making everything better with his presence! We really appreciate it, Gabe! It's such a pleasure to see, day by day, the amount of pictures you post in order to give us a closer look to the TV Show!
Also, don't forget to take a look at Gabe Sachs on Vimeo in order to see more and more Behind The Scenes stuff about the last season of The Night Shift + the rest of the seasons! Like, this one, for example! The amount of videos is awesome, and the whole cast seems so profesional and amazing while the recording!
2016
eoin
photos
stills & prom pics
the night shift