Good news, guys! As you all may know by now, Gabe Sachs announced a couple of days ago that The Night Shift got renewed for a fourth season! What does that mean? Well, that means that we are going to get the chance of seeing the wonderful and amazing cast of the medical drama, including Eoin as the main lead, on screen for a new round coming up next year, probably at summer! Aren't you excited? We are!
Congratulations to all the people that make NBC The Night Shift possible!
GUESS WHAT WE GOT?!!!!!!! @NBCNightShift #nightshift #thenightshift #SEASON4 THANK YOU for all of your amazing support and patience! WOO HOO pic.twitter.com/2S40nKs1jJ

— Gabe Sachs (@Gabestuff) 17 de noviembre de 2016
Road to a new season then! Wait for it with us, keep tuned and don't forget to congratulate the whole cast via twitter, they are gonna love it!
NBC has picked up The Night Shift for a fourth season. The medical drama has been a solid summer performer, averaging a 1.4 rating in adults 18-49 and 6.8 million viewers overall in Live+Same Day in Season 3, making it the No. 1 summer drama on the Big 4 networks this year.

NBC does not specify but The Night Shift will likely continue as summer fare. The drama started in summer 2014, exceeding expectation and earning a second-season renewal. Its second season, which aired in midseason 2015, was less successful, but the show did OK in its return to summer this year.

The renewal for The Night Shift, from Sony Pictures TV, comes on the heels of NBC opting not to go with the Cruel Intentions sequel series, also from Sony TV, for next summer.

"Week after week The Night Shift tells incredibly engaging and emotional stories that draw us into a unique world," said NBC Entertainment president Jennifer Salke.

The cast of The Night Shift includes Eoin Macken, Jill Flint, Brendan Fehr, Robert Bailey Jr., JR Lemon, Tanaya Beatty and Scott Wolf. Gabe Sachs and Jeff Judah serve as executive producers and writers.

(source).
2016
eoin
news
the night shift
Leopard fixes on two separated brothers Tom and Jack, who are cold-shouldered by the Irish village they live in. Jack returns after 5 years with the sudden and unexplained death of their father and the brothers are immediately at odds with one another. Jack's presence pushing Tom's loner mentality into a dangerous psychosis and opening an old wound with the locals as to why he originally left. Things take a surreal turn when they find a girl apparently left for dead in the moors and Tom becomes wildly obsessed with looking after her. What follows is beautiful, tragic and bizarre, as the brothers search for a resolution to their past and their relationship to one another in this mesmerizing tale of love, violence and redemption.

We speak to the film's writer, director and co-star Eoin Macken (TV's The Night Shift) about the film, which is currently doing the VOD rounds. He also has a fantastic first name I might add.

(SOURCE).
You can read the whole interview following this link and thanks The Movie Elite at their social networks (like Twitter) for made it happen! What a lovely interview, go ahead and read it all!
2016
eoin
interview
leopard
news
As you all may probably know, our man Eoin Macken will be attending the next SupaNova Con on November in order to make some appearances in some Q&As and, of course, to take some pics and signing a bit during the days he'll be there! Just take a look at the whole shedule over here, at the SupaNova official website and don't miss the opportunity if you're close to the two places he'll be appearing!
Eoin (pronounced Owen) Macken is an Irish actor, film maker, author and model.

Raised in Dublin, Eoin's interest in drama began while at University. When he was 19 he started modelling for Abercrombie and Fitch, Ralph Lauren, Braun and GQ magazine.

Appearing in his first feature film, Studs, in 2005, he would go on to land leading roles in the indie films Triple Bill and Rise of the Bricks, before moving to Los Angeles to undertaking acting lessons and study psychology.

Eoin has appeared in other films such as The Callback Queen and Centurion, and the television series Fair City. He is probably best known as Sir Gwaine in the BBC series Merlin.

He has also directed several feature films, including Christian Blake (which he also wrote and edited), Dreaming For You (which he wrote, directed and starred), The Inside and Cold. He also directed the documentary The Fashion of Modelling.

A man of many hats, Eoin also wrote the novel Kingdom of Scars, released in 2015.

Eoin currently stars as Dr. TC Callahan in the NBC series The Night Shift. His next feature film appearing is in Resident Evil: The Final Chapter.
Here the shedules if you're too lazy to take a look at it, we have it covered as always!
Eoin looks forward to meeting all his fans in Brisbane and Adelaide in November 2016.

Eoin will conduct a general admission Q&A each weekend, and participate in signing and photo sessions* on Friday in Brisbane (2:30pm – 5:30pm) and throughout each Saturday (10.30am to 5.30pm) and Sunday (11am to 5pm) in both cities.

*Autograph ($40 each) and photograph ($50 each) fees apply.

This information is correct at the time of writing but please check the Event Programme for the final timetable, including time and location within the events.

Guest confirmed, health and other commitments pending.
2016
eoin
news
public events
supanova
As part of a three videos documentary, here you have the second one of the whole project Eoin was doing a couple of years ago with @Sightsavers. Enjoy the second part of A Gif of Sight, which will be released next October 13th, featuring "the stories of three people undergoing cataract surgery".
In July 2014, actors Eoin Macken (The Night Shift, Merlin) and Tim McDonnell travelled to Northern Mozambique to witness Sightsavers' work in the field and captured their experience on film.

Their 30-minute film, A Gift of Sight, which will premiere on our Million Miracles website on World Sight Day (Thursday 13 October), features the stories of three people undergoing cataract surgery.

This is Henrique's story.

Having cataracts in both eyes has meant 76-year-old Henrique da Cruz has been blind for the last 10 years. He has five children and 16 grandchildren, two of whom, due to his cataracts, he has never seen.

Henrique lives with his son and his son's family, and, aside from a rope system that his family built to allow him to feel his way to the toilet, he has no independence and no longer feels able to work like he used to. He says of his situation: "I feel sad and very limited. I can't go around alone and completely depend on others."

When Henrique was examined by staff at Anchilo Health Centre's outreach service, it was discovered that he only had a tiny amount of light perception and would therefore need to undergo surgery on both eyes to remove the cataracts that had been worsening over time.

When asked how he was feeling about the surgery he said he was hopeful that he'd be able to see again, and be able to resume his farming work. But most of all he was looking forward to seeing his two baby grandchildren for the first time.

A Sightsavers project car was sent to transport Henrique to the new eye care facility at Nampula's hospital, 30 kilometres away from his home, where Dr Anselmo performed his cataract surgery.

The following day Henrique was quiet and subdued as his bandages were removed, but he quickly livened up as he discovered he was able to walk confidently down the corridor without being led by his son or daughter-in-law. Henrique was overjoyed. He said, "I am very happy I can see again. I can see people and cars!"

"I feel alive again and it is so good!"
2016
eoin
news
sightsavers
videos
youtube
Remember that trip the wonderful Eoin Macken was preparing some months ago? Remember his whole adventure through it and how Mozambique literally changed something in his life? Well, the waiting finally came to an end, and we're able to get a big glimpse about his memories around there with blind people who, thanks to SightSavers, got the chance to keep his sight and get it back!
Here you have the video, and we're going to keep this post updated since it seems there are two more videos about the whole process so… stay tuned! But for now, enjoy the first part of A Gif of Sight, which will be released next October 13th, featuring "the stories of three people undergoing cataract surgery".
In July 2014, actors Eoin Macken (The Night Shift, Merlin) and Tim McDonnell travelled to Northern Mozambique to witness Sightsavers' work in the field and captured their experience on film.

Their 30-minute film, A Gift of Sight, which will premiere on our Million Miracles website on World Sight Day (Thursday 13 October), features the stories of three people undergoing cataract surgery.

This is Agira's story.

Agira has been reliant on her son to provide her with food since her bilateral cataracts worsened and she was no longer able to farm. She continued to carry out tasks such as basic cooking and collecting water because of their familiarity but her deteriorating sight was beginning to affect this. She would follow the familiar path to the water hole, but if there were any obstructions, she would become disorientated.

A regular outreach service was established at the Anchilo Health Centre, a short drive from Agira's home, making the services available to her much more accessible. The clinic identified Agira's cataracts and she was referred for the treatment that she so desperately needed.

Before the service came to Anchilo, Agira didn't know that it was even possible that her sight could be restored. In order for her to make her cataracts surgery, a Sightsavers project car collected Agira to transport her to the Nampula Eye Clinic for treatment. Without this provision, raising the cost of the journey to and from Nampula would have been near impossible for her.

Before her cataract operation, Agira said she was most excited to see her friends and family clearly again.

On the day following the operation, her bandages were removed and Agira was instantly full of smiles and began shaking the doctors' hands. She said, "I am feeling no pain. I am so happy. I can see you all!"
2016
eoin
news
sightsavers
videos
youtube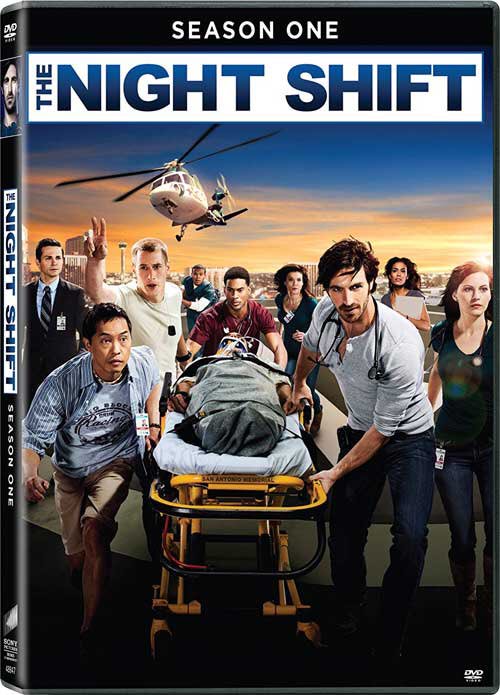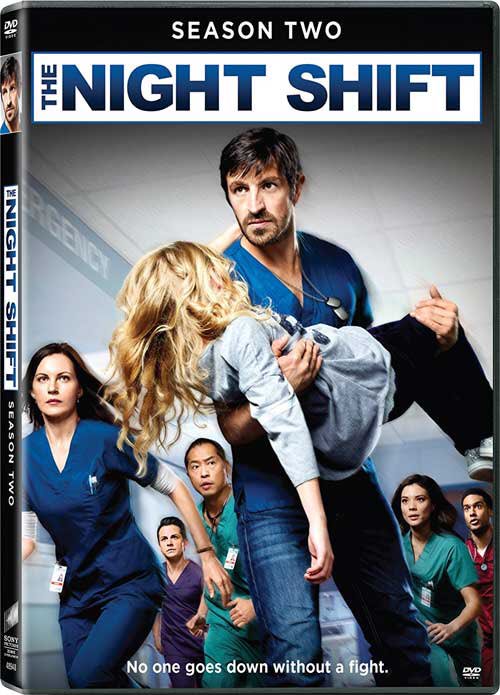 We finally got it, guys! Head up to Amazon just right now in order to get the chance of ordering the first two seasons of the NBC medical drama, 'The Night Shift'. Don't miss the opportunity, it's always nice to support our favourite TV Shows (more if it happens to be about our beloved man, Eoin Macken, here you have the link!
We'll gonna add both DVDs to our sidebar as soon as possible aswell so you'll always see them easily!
An ensemble medical show about a group of ex-Army doctors who work the night shift at a hospital, and do whatever it takes to help their patients. Using battlefield-tested medical skills, doctors clash with hospital bureaucrats who are more worried about the bottom line than the lives of their patients.

Amazon's CreateSpace MOD (manufacture on demand) program has added pre-order listings for both The Night Shift – Season 1 and also The Night Shift – Season 2 on DVD. The 8-episode first season will come on 2 discs for $35.99 SRP. The 14-episode second season will come on 3 discs, and is priced at $45.99 SRP. (source)
2016
dvd
eoin
news
the night shift
October 07, 2016, 1:30 PM – 2:30 PM | Location: The Theater at Madison Square Garden

Screen Gems comes to New York Comic Con for the first time with a sneak peek inside two of their landmark horror film franchises.

Resident Evil: The Final Chapter: Alice (Milla Jovovich) must return to where the nightmare began – The Hive in Raccoon City, where the Umbrella Corporation is gathering its forces for a final strike against the only remaining survivors of the apocalypse.

Underworld, Blood Wars: The next installment in the blockbuster franchise, UNDERWORLD: BLOOD WARS follows Vampire death dealer, Selene (Kate Beckinsale) as she fends off brutal attacks from both the Lycan clan and the Vampire faction that betrayed her. With her only allies, David (Theo James) and his father Thomas (Charles Dance), she must stop the eternal war between Lycans and Vampires, even if it means she has to make the ultimate sacrifice.
Hey yo, guys! Don't know if you already knew about this but, our beloved Eoin Macken is attending ew York Comic Con next October 7th as part of the Resident Evil's cast! Head up to the con in order to see him in an, surely, amazing panel about the upcoming film that premieres next year!
In my case, thanks to the lovely @iamqueenfal for the info!

when you're copied on an email to add @eoincmacken to the #NYCC website because he's joining the @ResidentEvil Panel 🙌🏼🙌🏼🙌🏼🙌🏼

— Fallon Prinzivalli (@iamqueenfal) 22 de septiembre de 2016
2016
eoin
new york comic con
news
press conference
public events
resident evil