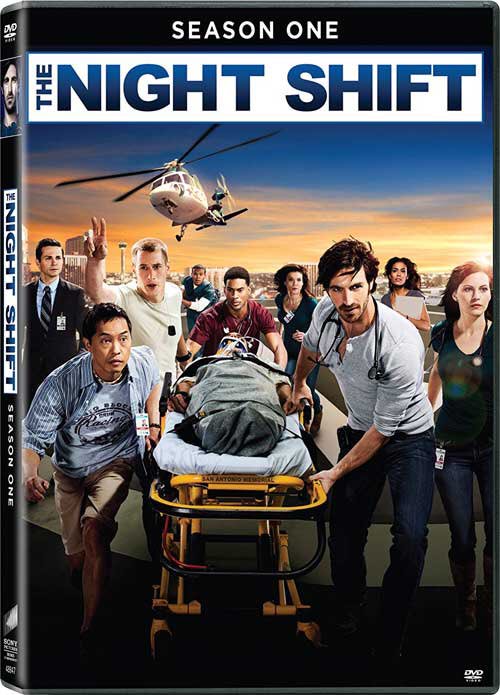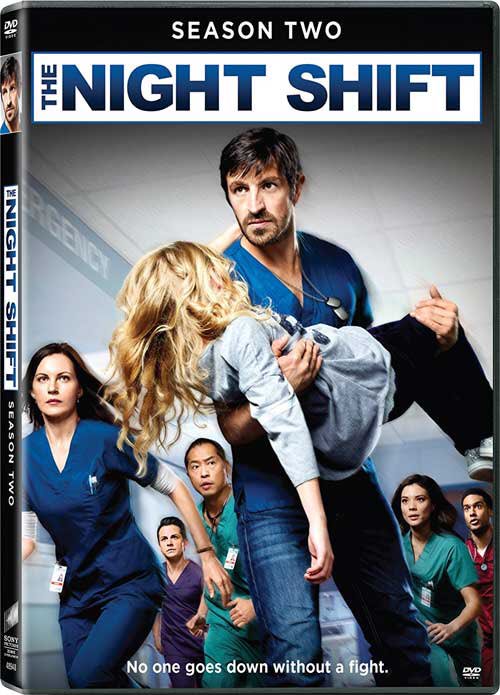 We finally got it, guys! Head up to Amazon just right now in order to get the chance of ordering the first two seasons of the NBC medical drama, 'The Night Shift'. Don't miss the opportunity, it's always nice to support our favourite TV Shows (more if it happens to be about our beloved man, Eoin Macken, here you have the link!
We'll gonna add both DVDs to our sidebar as soon as possible aswell so you'll always see them easily!
An ensemble medical show about a group of ex-Army doctors who work the night shift at a hospital, and do whatever it takes to help their patients. Using battlefield-tested medical skills, doctors clash with hospital bureaucrats who are more worried about the bottom line than the lives of their patients.

Amazon's CreateSpace MOD (manufacture on demand) program has added pre-order listings for both The Night Shift – Season 1 and also The Night Shift – Season 2 on DVD. The 8-episode first season will come on 2 discs for $35.99 SRP. The 14-episode second season will come on 3 discs, and is priced at $45.99 SRP. (source)
2016
dvd
eoin
news
the night shift
October 07, 2016, 1:30 PM – 2:30 PM | Location: The Theater at Madison Square Garden

Screen Gems comes to New York Comic Con for the first time with a sneak peek inside two of their landmark horror film franchises.

Resident Evil: The Final Chapter: Alice (Milla Jovovich) must return to where the nightmare began – The Hive in Raccoon City, where the Umbrella Corporation is gathering its forces for a final strike against the only remaining survivors of the apocalypse.

Underworld, Blood Wars: The next installment in the blockbuster franchise, UNDERWORLD: BLOOD WARS follows Vampire death dealer, Selene (Kate Beckinsale) as she fends off brutal attacks from both the Lycan clan and the Vampire faction that betrayed her. With her only allies, David (Theo James) and his father Thomas (Charles Dance), she must stop the eternal war between Lycans and Vampires, even if it means she has to make the ultimate sacrifice.
Hey yo, guys! Don't know if you already knew about this but, our beloved Eoin Macken is attending ew York Comic Con next October 7th as part of the Resident Evil's cast! Head up to the con in order to see him in an, surely, amazing panel about the upcoming film that premieres next year!
In my case, thanks to the lovely @iamqueenfal for the info!

when you're copied on an email to add @eoincmacken to the #NYCC website because he's joining the @ResidentEvil Panel 🙌🏼🙌🏼🙌🏼🙌🏼

— Fallon Prinzivalli (@iamqueenfal) 22 de septiembre de 2016
2016
eoin
new york comic con
news
press conference
public events
resident evil
The Green Rabbit and The Ice-Cream Girl, a short film by Eoin Macken, featuring Emmett J. Scanlan and Ryan Simpkins premiere is tomorrow, September 24th from 5:00pm to 6:30pm EST! The Irish Screen America, an event that provides a place to make a huge showcasing about the best in contemporary Irish media, is letting you all the chance to watch it if you wanna take a look at it in Los Angeles, California. Here you have a link to the site, so if you have the chance and live close to the place, don't miss it!
You can take a first look with this teaser trailer, and don't forget to always take a look at Eoin's YouTube profile! Also, don't miss the opportunity of keep knowing and watching more and more stuff about our wonderful and beloved mister Macken!
My short #thegreenrabbitandtheicecreamgirl LA premiere @IrishScreen 24th Sept @niallmckay https://t.co/UNJysZyPX9https://t.co/67kqHwgH5E

— Eoin Macken (@eoincmacken) 16 de septiembre de 2016
A man is stumbling through the desert, in only his underwear lost and confused. A car pulls alongside, driven by a beautiful young girl who knows his name. His name is Gerry and its tattooed on his forehead. Her name is Eilis, from a pendant around her neck. With nowhere else to go, he gets into the car and begins a surreal journey to answer the reason he's there at all. (source)
2016
eoin
news
premiere
teaser trailer
the green rabbit and the ice cream girl
videos
The Night Shift's Eoin Macken writes, directs and stars in this year's most unique and thrilling film experience, out this September from Osiris Entertainment.

From Eoin Macken, best known as Dr. TC Callahan on the hit NBC medical drama The Night Shift, comes the dark and disturbing Leopard, out this month from Osiris Entertainment.

Paris, Texas meets The Wicker Man in a unique, powerfully-performed thriller about two disconnected brothers ostracised by the small village community surrounding them who reunite when their father dies.

"Beautiful, heartbreaking, dark and yet luminous" (At a Glance Mag), the chilling Leopard features award-worthy performances from Macken (The Night Shift, Merlin, The Tudors), Tom Hopper (Black Sails) and Jack Reynor (Transformers : Age of Extinction). Written and directed by Eoin Macken.

Inspired by Jim Steinback's East of Eden, Leopard fixes on two separated brothers Tom and Jack, who are cold-shouldered by the Irish village they live in. Jack returns after 5 years with the sudden and unexplained death of their father and the brothers are immediately at odds with one another. Jack's presence pushing Tom's loner mentality into a dangerous psychosis and opening an old wound with the locals as to why he originally left. Things take a surreal turn when they find a girl apparently left for dead in the moors and Tom becomes wildly obsessed with looking after her. What follows is beautiful, tragic and bizarre, as the brothers search for a resolution to their past and their relationship to one another in this mesmerizing tale of love, violence and redemption.
📷 Leopard out this September. The Night Shift's Eoin Macken writes, directs and stars in this year's… https://t.co/an1AKAr6P4

— Stuart Anderson (@sturoseheart) 22 de septiembre de 2016
2016
eoin
leopard
news
Thanks to hollywoodreporter we can finally watch the first original trailer of 'Resident Evil: The Final Chapter', featuring our beloved Eoin Macken as Doc! Don't miss the opportunity of seeing him being part of the film, pay attention carefully to the glimpses!
Picking up immediately after the events in Resident Evil: Retribution, humanity is on its last legs in Washington D.C. As the only survivor of what was meant to be humanity's final stand against the undead hordes, Alice must return to where the nightmare began – Raccoon City, where the Umbrella Corporation is gathering its forces for a final strike against the only remaining survivors of the apocalypse. In a race against time Alice will join forces with old friends, and an unlikely ally, in an action packed battle with undead hordes and new mutant monsters. Between regaining her superhuman abilities at Wesker's hand and Umbrella's impending attack, this will be Alice's most difficult adventure as she fights to save humanity, which is on the brink of oblivion.
2016
eoin
news
projects
resident evil
videos
Via The Wedding Invitation Facebook:
THE WEDDING INVITATION is a Sweet & Raunchy romantic comedy & is an official selection of the 21st annual Palm Beach International Film Festival in Florida. This will be our world premiere and YOU'RE ALL INVITED. PBIFF was home to the world premiere of MY BIG FAT GREEK WEDDING & was voted top 25 best festival destinations, internationally by MOVIE MAKER MAGAZINE. Festival dates: April 6th -14th. Check back to see our screening dates once they are announced. We're ecstatic. Thanks for all of the love! If you want to come to the premiere in FL, email us to get added to the email thread for dates, tickets and events in Palm Beach. theweddinginvitationmovie@gmail.com
Good things & thank you!
– The Wedding Invitation Team
2016
eoin
news
premiere
the wedding invitation
Via Sightsavers

In July 2014, Actors Eoin Macken (The Night Shift, Resident Evil: The final chapter) and Tim McDonnell (The Bastard Executioner) travelled to Northern Mozambique to witness Sightsavers' work in the field and captured their experience on film.

The photos they took were exhibited in October 2015 at the Powerscourt Townhouse Centre, Dublin on World Sight Day last year, and we are pleased to announce that the exhibition has been invited to return. The photographs are now available for viewing at the Centre until Sunday 31 January.

Not only can you visit the exhibition, Eoin and Tim have generously allowed us to sell these framed first editions with a limited print run of 50 to help us raise much needed funds for our Million Miracles campaign.

A large print is €300 and a small print is €250 – please contact Teresa Murray for further information. Buyers will also receive a personal thank you card from Eoin and Tim!

Talking about his time in Mozambique, Eoin said, "I visited Nampula Province not knowing what to expect, it really shook me how much we take for granted at home. I met a woman who had gone untreated for five years because she couldn't afford to seek medical help. For her, it was too late: she will never see again. I met three people who had their sight restored, who saw grandchildren for the first time, who could work again, who felt their lives were restored."

As well as being an Actor, Tim is also a professional photographer who works regularly with Sightsavers. "The images in this exhibition are not directly about Sightsavers' work so much as trying to capture the circumstances in which that work takes place and the communities affected by it," he explains, "Nampula Province is similar in size to Ireland and has a population of nearly five million: only three ophthalmologists serve this area."

At Sightsavers, we want to eliminate avoidable blindness and support people who are irreversibly blind to live independently.

A Million Miracles is a three-year campaign launched on World Sight Day 2014 that aims to fund one million cataract operations to restore, save and protect people's sight in some of the poorest parts of the world. It might seem like a huge number, but already nearly half a million miracles have been funded. If you would like to donate a miracle to our campaign or for further information, visit our Million Miracles website.

Visit our online gallery featuring Eoin and Tim's photographs.

Sightsavers Ireland would like to thank Powerscourt Townhouse Centre for once again hosting this exhibition.
2016
eoin
news
sightsavers