Nightflyers is a 1980 novella by George R. R. Martin, a 1985 short story collection by the same author that includes the novella, a 1987 science fiction-horror film based on that novella, and an upcoming TV series.
In 2017, a pilot for a possible TV series based on Nightflyers was being developed by Syfy. The series would be based on the 1987 film, with Jaffe serving as one of the producers. The script for the pilot was written by Jeff Buhler. Martin will not be involved in the production or writing for the new series, since his contract with HBO contains an exclusivity clause.[1] The series will be shot in Ireland and will premiere in July 2018; the producer will be Daniel Cerone. — SOURCE.
Just added, also, some HQ Photos of Eoin (thanks @FarFarAwaySite for them) on set with the crew of Nightflyers! Take a look at the gallery!
2018
eoin
news
nightflyers
photos
videos
youtube
Thanks to @FarFarAwaySite, I just added some HQ photos of the Nightflyers Production Launch last February 9, 2018! As you know, Eoin is playing a new role on netx SyFy's production and you could have followed his journey through Twitter or Instagram! Best wishes for this new production and hopefully we'll see him a long time on screen again! Check them out in our gallery, thanks for your support!
2018
eoin
news
nightflyers
photos
press conference
public events
SYFY today announced a series pickup for Nightflyers, based on author George R.R. Martin's novella and the 1987 film of the same name. Jeff Buhler (Jacob's Ladder) wrote the adaptation for television and will executive produce alongside Daniel Cerone (The Blacklist) who will also serve as showrunner. Martin will also executive produce, along with Gene Klein (Suits), David Bartis (Suits) and Doug Liman (Live. Die. Repeat) of Hypnotic; Alison Rosenzweig (Jacob's Ladder, Windtalkers) and Michael Gaeta (Jacob's Ladder) of Gaeta Rosenzweig Films; Lloyd Ivan Miller and Alice P. Neuhauser of Lloyd Ivan Miller Productions. Robert Jaffe (Nightflyers – 1987) will produce. Andrew McCarthy (Orange is the New Black) will be a producer-director on the project. Mike Cahill (I Origin) will direct the pilot.

The series will be produced by Universal Cable Productions. Netflix will co-produce and have first-run rights to the series outside of the U.S.

Gretchen Mol (Boardwalk Empire) is set to star as Dr. Agatha Matheson, alongside Eoin Macken (The Night Shift) as Karl D'Branin, David Ajala (Fast & Furious 6) as Roy Eris, Sam Strike (EastEnders) as Thale, Maya Eshet (Teen Wolf) as Lommie, Angus Sampson (Fargo) as Rowan, Jodie Turner-Smith (The Last Ship) as Melantha Jhirl, and Brían F. O'Byrne (Million Dollar Baby) as Auggie. (SOURCE)
From what we know now by far, he just retweeted it a couple of minutes ago and the IMDb title is up but nothing about the full cast yet. If you want to read the full article just click on the following link. And congrats Eoin Macken for your role! We know you'll do such a wonderful job!
2018
eoin
news
nightflyers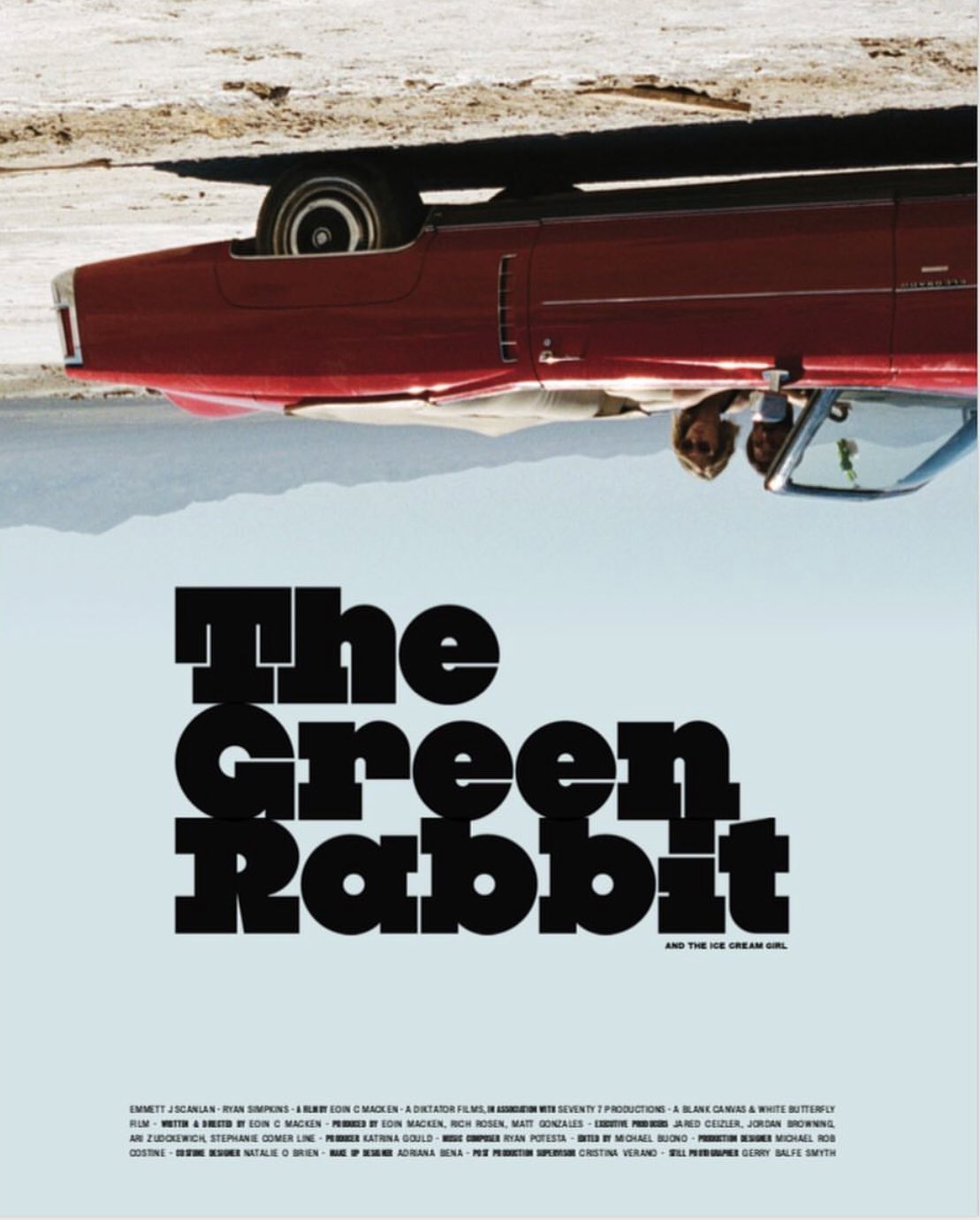 Finally, on Vimeo, we can watch last Eoin's short film, The Green Rabbit and The Ice Cream Girl. Written, produced and directed by Eoin Macken, starring Emmett J Scanlan & Ryan Simpkins. Original score by Ryan Potesta, edited by Micheal Buono & cinematography by Daniel Katz on 35mm.
A man is stumbling through the desert, in only underwear, lost and confused. A car pulls alongside, driven by a beautiful young girl who knows his name. His name is Gerry and it's tattooed on his forehead. Her name is Eilis, from a pendant around her neck. With nowhere else to go, he gets into the car and begins a surreal journey to answer the reasons he's there at all.
Also, thanks to our friend Sam from Brendan Fehr Net, I've added all the screencaps of the short film. If you want to take a look and have some to make some edits or something, just give it a try at the gallery!
2017
news
screencaps
the green rabbit and the ice cream girl
videos
vimeo
As said, the hard work first. Finally manage to get the time to make all the screencaps of The Night Shift, season 4, where Eoin plays doctor T.C. Callahan. Sad thing we're not going to have a season 5 but, stil, we've enjoyed all the seasons by far and we're gonna wait for more tv shows and films! Let's wait together, as usual!
"We want to thank our amazing creators and executive producers, Gabe Sachs and Jeff Judah, for their dedication and stellar work; a cast and crew that were second to none; and the city of Albuquerque, N.M., which graciously opened its arms to us," NBC entertainment president Jennifer Salke said in a statement. "For four seasons, The Night Shift gave audiences a window to heroic doctors, nurses and all-star medical workers who never hesitated to give their blood, sweat and time to help those most in need."
Read the full article HERE.
Don't miss this interview of Eoin that he did while setting the last season of The Night Shift and then enjoy the screencaps!
All the screencaps are just down below, all of them. Not a single one missed.
And last, in order to give you some good stuff and some good vibes too (and also to make you feel better after the news that you probably already knew but that we just updated today), here you have some good videos about The Night Shift behind the scenes. Have fun! And thanks to Brendahn Fehr Net for the video!
2017
interview
news
screencaps
the night shift
videos
vimeo
youtube
Hey guys! Thanks to our amazing friend Sam from brendan-fehr.net, we got some video interviews and lil glimpses of the Japanese World Premiere of 'Resident Evil: The Final Chapter' earlier at Japan! Hope you'll enjoy them all!
Eoin Macken about how's the movie and how was filming it + his relationship on set with the cast.
Some videos from the premiere and the whole cast before the screening.
A two-minutes teaser trailer about the whole premiere event with some little sneak peaks from the Final Trailer!
2016
eoin
news
public events
resident evil
videos
vimeo
Howdy, pals! As you can see at Eoin's instagram account, the press tour about 'Resident Evil: The Final Chapter' has just began and Japan was the first one to receive part of the cast there!
Being totally a gentleman, he seems to be having such a good time, and so we are watching every single thing he uploads to his social media accounts! Here you have a lil glimpse of what you can see at his instagram!
And, as usually, thanks to @FarFarAwaySite, we've added 20+ HQ Pictures from the premiere, early today (remember that Japan has diferent timezones) and Eoin's look is hella awesome, what do you think, guys? We're totally glad and amazed, and we obviously wish the whole cast a lot of luck in their journey through the world!
Don't miss anything at his twitter or instagram, and always take a look at our gallery! Stay tuned for more!
2016
eoin
news
photos
public events
resident evil