Hello guys! Sorry, sorry so much.
This is not a good bye, this is actually a welcome back everybody! I basically got no time to update the site normally, constantly… well, you know what I mean. But, since we stil love Eoin and all his wonderful projects and works, we (Carola and I) decided to keep updating this site as much as we can. Real life is becoming such a wonderful thing, we are improving in our skills, we are looking for jobs and we are always doing stuff, so that's why we couldn't be able to keep this site updated.
But don't worry! Still we're gonna try to update it as much as we can, starting by today. Most of the time we're going to update the gallery since we want to keep it as a personal gallery so we can always remember the events and see Eoin's in all his kind, so don't stop coming to see that! Interviews, videos… we're gonna try, but we don't promise anything.
This is basically a reminder that we stil love Eoin and that we stil appreciate all your support, so stay with us as much as you want! Because we're gonna try our best (but not that daily tho). Sorry for my bad english, you know I'm spanish and well.
Thanks everybody, and be safe!
P.S. It's been almost one year, wow guys… hahahaha.
2017
admin post
Our friend Marie is doing something that maybe you are interested in!
She is sending a letter to somebody important who could help us to have a Merlin movie. She needs to show that person the power and the strength of the Merlin Fandom so, if you are a Merlin fan, what are you waiting for?
If you want to be part of this incredible project, you only have to send her:
Any word, sentence, text, poem… explaining or showing your love for Merlin, the impact of this TV Show on your life and your wish to see it again on our screens.
Any other fanart from you about Merlin.
You have to send it to yourethevoice.official@yahoo.fr in English if you can.
Here's the way to raise your voice for Merlin! We already send our text and fanart so please if you love (as much as we do) Eoin and Merlin send your love! We can do this together!
admin post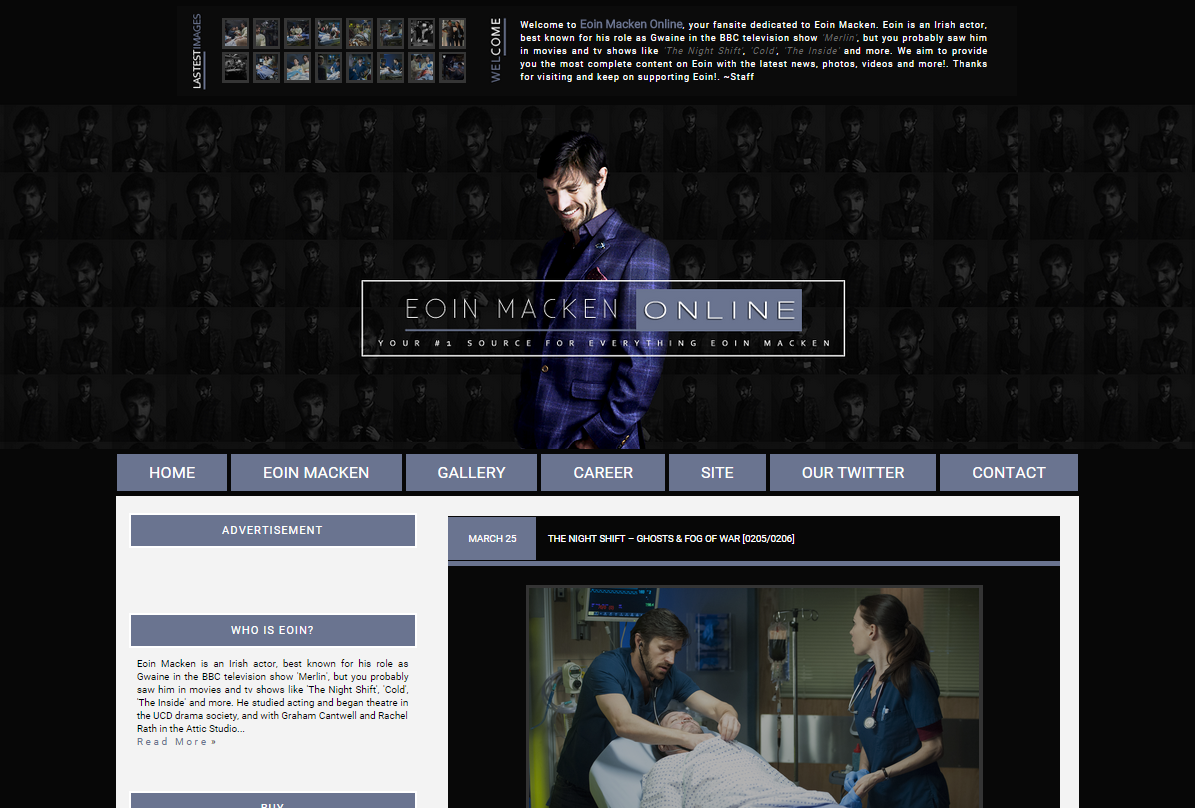 Good morning/afternoon/evening/night, folks! We are glad to anounce and let you all know that our site has been updated with a new layout made by neoncandy!
But, why? Well, since the last months we have been trying to give you all the last news and pics about our fellow Eoin Macken, we wanted to also give to eoinmacken.net an sleek, a more elegant layout and quite "serious" (we are not serious in anyway but you know haha!) to the fansite! Taking the last photoshoot Eoin has, Carola (one of the admins of neoncandy and also my partner giving me a hand at the site) take ride over it et voilá! The gallery needs to wait a bit, but she'll change it as soon as she'll be able to do that!
But that's not the only thing we've changed/added! There are some new addons to the sidebar:
The Projects bar has been totally changed, making it more clearly and easy to use.
We've added an "Upcoming Events | Airing dates" widget to notice you about everything coming up for the next weeks, months, even years!
We had a Twitter widget to let you see last Eoin's update at his official twitter account, but we can't forget he also has an Instagram and… yeah! We have now an Instagram widget to show you the last pictures he upload to that social media.
Added his Official Facebook page to the "networks widget", maybe we'll change it to other place and make it more visible and easy to access, tho!
We also wanted to thank you all for your support throught this fansite that it's online since almonst one year ago (July 5th to be exact!). So hope you guys like it and will enjoy it as much as we do! Thanks for everything and also thanks for being here with us supporting everything related with Eoin!
We love you, guys!
Cheers!
Silvs & Carola.
admin post
Hey folks! I've been making some adjustments to the gallery and now you can see that I've added three new categories that are facebook, instagram and twitter, right? Well, since Eoin has now a new facebook page that you can see following this link (and also you should like it because everything about Eoin means you'll have fun and smile a lot reading and seeing him posting stuff) I'm about to start uploading all the social networks stuff he will post over there in those galleries just to have everything well organised (and also just because it was a little caprice I had haha!)
The new categories are here, so don't hesitate to visit our gallery as much as you want and thanks, as always, for your support! It means a lot for us!
Oh, and that's not all! Farfarawaysite gave me, as a final contribution to our site, a couple of HQ stills from Eoin playing Antipas in National Geographic 'Killing Jesus' so enjoy the beautiful view and say thanks to farfarawaysite's job through these years. We're going to miss them!
P.S: I promise I'll try and update twitter and instagram's galleries as soon as I can!
2015
admin post
eoin
killing jesus
photos
stills & prom pics
Added tons of pics more to the gallery, folks! Check them all on the links down below!
2015 winter tca press tour – national geographic channel welcome reception & panel, jan 7th
paddy's in the boot (2012) > stills & promotional pics
jameson dublin international film festival 2012
mozambique documentary with sightsavers
'the callback queen' premiere – 25th galway film fleadh, july 10th (2013)
*All photos are (C) their respective author and owner. If you think that some photos should be removed please contact us and we'll remove them.
2015
admin post
paddy's in the boot
photos
public events
sightsavers
the callback queen
Hey guys! Wishing you all a Merry Christmas from the staff of eoinmacken.net! We hope you'll spend such a great time around your family & friends and start preparing things for New Years' eve! We love you so much and we're so grateful for your support, so thank you so much!!!
Cheers!
Carola & Silvs.
2014
admin post
Hey guys! First of all don't make expeculations and get so excited about the topic of this entry until you'll make sure you have read it at all, okay? And now that you have been warned, keep reading!
So we all know that Merlin, that tv show that finishes it airing a couple of years ago, will be always in our hearts, right? That's a fact, and here you have another fact: we want a Merlin convention!!! So badly, and I'm pretty sure you all, folks, are right and support me (and every fan in the fandom of Merlin) about that. So, yesterday, Marie (the admin of MoreMerlin) posted an entry on her official page "You're the voice – all together for a Merlin convention and on More Merlin France" about telling us that she's working with Royal Events on a posible MerlinCon for fans! And since Eoin was one of our loyal and brave knights, we, the webmasters of eoinmacken.net, wanted to give her some help trying to reach our goal and, hopefully, get a MerlinCon in some time!! That would be awesome, right? So now here you have the instructions if you really want to take part of the Convention and really miss all the cast.
First of all you have to visit this link, that it's a forum about Merlin's World.
Read the whole topic and, of course, share your thoughts if you want to in the same topic (you can sign in at the forum if you are a fan of Merlin, don't hesitate to do it!).
By the time you're done reading the topic, don't waste more time and fill the following poll that you can fin here.
We are not discriminating anyone but, if you are not planning to attend the con even if it will be, DON'T FILL THE POLL!! We need to be 100% sure that all the people filling the poll will be attending, so please, understand that!
Give a like to this page in where you can find news about all the process and cross your fingers!
Remember that the convention will be at France (Paris or Tolouse I guess) if we hit our goal and Royal Events really see that there will be a good amount of people attending it. And, for now, just wait 'till more and more news! We will keep you updates at Twitter, so don't forget to follow us at @EoinMackenNet.
Thanks for take your time to read it, and remember that in a land of myth and a time of magic, the destiny of a great convention rests on the shoulders of an amazing fandom… it names…. MERLINIANS!
2014
admin post
merlin
merlincon